Heading including Business Name, keywords & hook
A little bit about CROFT FARM

Croft Farm is set in 40 acres between Harpenden and Wheathampstead.
It's an oasis of quiet beside the River Lea.
Established for over 25 years, Croft Farm offers kind and individual care; your pets will enjoy their holiday so you can enjoy yours.
They are inspected and licensed by the local authority. Croft Farm Kennels license number is LN/201200509, St Albans City and District Council.
All the dogs are exercised in secure grass paddocks and have the opportunity for supervised social play. They go out in the same group each time and make real friends with the other dogs.
On an average day all the dogs get about two and a half hours of outdoor play on the grass.
The kennels are all indoors and heated.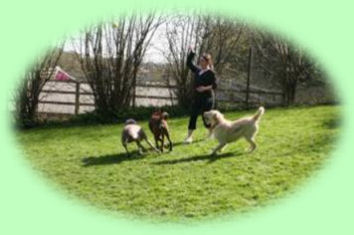 Because dogs' requirements vary, so do the kennels - from small cosy ones to suit toy dogs, to extra large family kennels for two or more big dogs.
All the dogs are fed twice a day, and have treats at intervals throughout the day.
Croft Farm keep a wide variety of proprietary dog foods (some 15 at the last count) including Hills, Eukanuba, Burns, James Wellbeloved,Bakers, Naturediet and Chappie. The aim is to change your dog's diet as little as possible, but if they don't have a suitable food they are happy to feed food supplied by you.
You are welcome to visit and inspect the kennels any morning from 9am - 12pm.
How to Contact Croft Farm
Croft Farm Postal Address:
Cherry Tree Lane
Leasey Bridge 
Wheathampstead
AL4 8HP
Phone Croft Farm: