Wheathampstead & District Preservation Society
A little bit about WHEATHAMPSTEAD & DISTRICT PRESERVATION SOCIETY (WDPS)
The aims and objectives as stated in the WDPS constitution are:
• Preserve and enhance the environment of Wheathampstead village and the surrounding area
• Promote traditional village enterprises and promote community cohesion
• Promote employment opportunities within new and existing rural businesses
• Raise awareness and encourage pride in Wheathampstead village and the surrounding area
• Oppose inappropriate development within the village and surrounding district
In practice the activities on which WDPS concentrates can be summarised as:
1. opportunities to improve or make better use of the village's many assets
2. Reviewing planning applications and objecting to any inappropriate development
3. Reacting to external threats to the village
4. Taking part, along with other local organisations, in community-wide initiatives
5. Encouraging energy conservation.
A little more about WDPS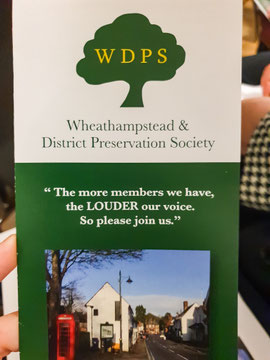 The chair of WDPS, Julie Bell serves on the WEB Turntable committee, which oversees the Wheathampstead Business Group work, both WDPS and WEB enjoy working together to support the whole of the Wheathampstead village community.
Wheathampstead and District Preservation Society was formed in 1995 by local residents, with the immediate objective of opposing the proposal by Sainsbury's to build a superstore and petrol station on the former Murphy's Chemicals site on the edge of the village.
 The site is now the Waddling Lane housing development.
If you're not already a member of WDPS we encourage you to consider joining and supporting their great work.
WDPS AGM & Awards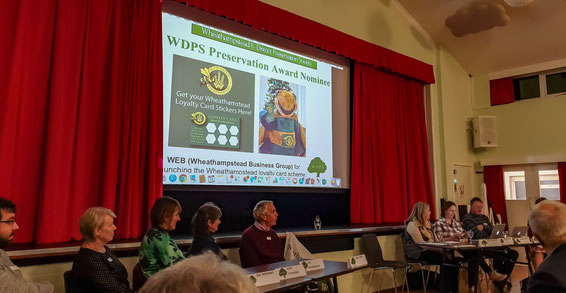 The photo shows WDPS AGM Feb 2019,in the Memorial Hall many members and village residents enjoyed the wine and cheese and celebrating the people who were nominated for awards. 
Nominees were people who had contributed contributed towards Wheathampstead village being a great place to live and work.  
WEB Chair, Jo Jailey (Striking Place Photography) was nominated for her great work in attracting key members of WEB turntable committee, helping us improve the way we support local Wheathampstead businesses and the local community.
Favourite WDPS Customer
People passionate about Wheathampstead!
How to Contact WDPS:
WDPS Postal Address
Phone WDPS